Proudly Serving The Winston
Looking for a plumber in Winston Salem?  Blevins Plumbing was established in 1984 by Steve Blevins with the desire to serve Winston Salem and the surrounding area with the best, most affordable, prompt and reliable plumbing service in town. Blevins is fully licensed, bonded and insured. We specialize in older plumbing, but are ready to help with a wide range of services from all types of repairs and installations to remodeling. No job is too small for Blevins Plumbing to handle! We have purposely remained a small company in order to provide the most personal and high-quality work. A lot of companies these days are charging "flat rate pricing" at enormous cost to their customers – not us!
Looking for a Plumber In Winston Salem?
Look no further!  Blevins Plumbing has proudly served the greater Winston Salem area for more than 36 years. Lots of area plumbers are good, but here at Blevins Plumbing we strive to be great each and every time. We've built a long lasting customer base, who would surely agree that our satisfaction guarantee is well warranted.  So, if you're looking for a plumber in Winston Salem or the surrounding area, give us a call.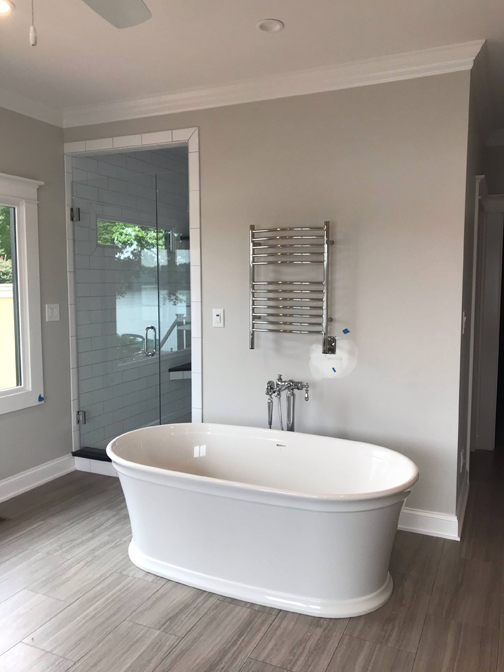 Fixture repair & replacement
We fix, install and repair a wide range of plumbing fixtures.  From the leakey toilet to the wacky garbage disposal, we handle it all!
Kitchen & bath remodeling
Yep, We do that!  Check out our services page, or simply click below to see some pictures of some past jobs.
Blevins Plumbing isn't limited to just residential jobs, we service the commercial public too!
Water pressure too low?  Laking pipes?  Need a sump pump replaced?  Issues with inside sewer lines?
Water heater install & replacement
Of Course!  We don't just bring you a new one, we'll haul away the old one too.
Check out our services page, or click "more " below to see a comprehensive list of what Blevins Plumbing can do for you.
"Steve saved my house from certain ruin!  Not only was he prompt, but his fix worked perfect and saved me a lot of cash in the process!" – Betty K
Steve provides quality work done right the first time! His years of experience show by the way he trouble shoots and fixes problems. We have referred him to friends that have had outrageous quotes for work that did not need to be done so solve the problem, saving them money, time, and frustration. You get what you pay for with Steve, and it's money well spent! Thanks Steve!
Ten years ago we purchased and renovated an older home. During that renovation we met Steve Blevins, and he has been taking care of all of our plumbing needs since. He is dependable, professional, and reliable. He has always addressed our problems promptly, even if it meant taking our calls after business hours. You could not find a better plumber.
Alway,s does a great job . No need to shop anywhere else . On top of the newest plumbing .
That issue won't fix itself!
We'd be glad to help – give us a call.